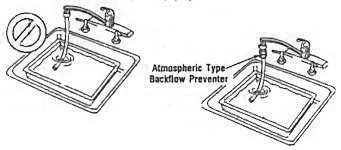 We are required to run a Cross Connection Control Program by the Massachusetts Department of Environmental Protection. DEP regulations, 310 CMR 22.22, along with the plumbing code govern cross connections.
According to DEP regulations, public water suppliers are required to:
Control cross connections to the last free flowing outlet of the consumer.
Have an approved Cross Connection Control Program (CCCP)
Inspect all non-residential properties connected to the distribution system for cross connections.
Maintain records including all correspondence, program plan, testing records, violation notices and other documents for inspection by DEP.
Ensure all devices are tested by a DEP Certified Backflow Prevention Device Tester and all surveys are conducted by a DEP Certified Cross Connection Control Surveyor.
Establishing a cross connection control program for residential customers including an educational component.
Not allowing any cross connections in the system unless properly permitted and approved.
Ensuring all double check valve assemblies and reduced pressure backflow preventers are tested according to schedule.
Notifying owner's of the connections when they are in violation of the regulations.
Owners of the connections are required to:
Notify the public water supplier of any connections protected by a double check valve assembly or reduced pressure backflow preventer.
Make suitable arrangements so the devices can be inspected and tested during normal business hours.
Maintain spare parts kits and any special tools needed to repair their devices.
Overhaul, repair or replace any device that fails a test or is otherwise defective within 14 days of the initial inspection.
Submit copies of inspection and maintenance forms to the water supplier.
Maintain on premises testing records, approvals and other documents pertaining to the device(s).
Make certain devices are tested according to DEP regulations or as required by the water supplier.