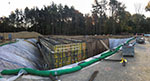 The Town appropriated $10.4 million on June 20, 2017 for the construction of a water treatment plant and associated piping. Substaintial completion of the project is expected in January 2019 which will be followed by several weeks of testing. We're planning on using the plant to produce water by the end of February 2019. Progress updates will be posted on a regular basis.
November Update: Work continues on the electrical, mechanical, plumbing and process systems.
September Update: A great deal of progress was made over the summer. The booster pumpstation and aeration tower were delivered. MOst major components of the plant are now in place including all main pumps, chemical injection panels, chemical feed control panel, filter control panel, main SCADA panel, variable frequency drives, and storage and day tanks. The ceiling was installed along with portions of the fire suppression, plumbing and HVAC systems. The electrician is running conduit for the electrical and control systems. The roof was installed and the masonry veneer is already half completed. Concrete finish work was completed in below grade tanks. Ladders were installed in the tanks and the floating decanter systems were installed in the backwash/recycling tanks.