Water
Beginning in July 2008, the majority of our customers are billed on a quarterly basis. One third of our customers are billed each month to distribute the workload and cash flow as evenly as possible over the year. Each quarter contains 3 billing cycles. Cycle #1 customers are billed during the first month of the quarter - January, April, July and October. Cycle #2 customers are billed in February, May, August and November. Cycle #3 customers are billed in March, June, September and December.
We are happy to bill customers monthly if they wish. This is a popular option for some residents that participated in the monthly billing pilot study and with customers that want to monitor their water use and related expenses at a finer scale.
Most backflow devices do not need to be tested or are not testable. However, two types of devices used to protect connections that pose the highest hazards need to be tested regularly.
Double Check Valve Assemblies (DCVA) are typically found on fire protection systems that are made of non-potable materials and have a fire truck connection. These devices prevent contaminated water from being drawn into the distribution system during main breaks or water being forced into the distribution system if the Fire Department uses the truck connection. DCVAs need to be tested on an annual basis.
Reduced Pressure Backflow Preventer (RP) are found on the highest hazard connections. These devices are designed to protect the water system even if part of the device fails. They are found on connections that a high risk such as chemical mixing tanks, heating systems containing chemical additives, fire protection systems with chemical additives and x-ray developers. RPs are tested once every six months.
Testing these devices ensures they are being maintained and in proper working order. The owner of the device has 14 days to repair or replace a device that has failed a test.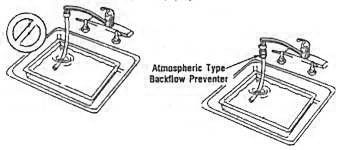 We are required to run a Cross Connection Control Program by the Massachusetts Department of Environmental Protection. DEP regulations, 310 CMR 22.22, along with the plumbing code govern cross connections.
According to DEP regulations, public water suppliers are required to:
Control cross connections to the last free flowing outlet of the consumer.
Have an approved Cross Connection Control Program (CCCP)
Inspect all non-residential properties connected to the distribution system for cross connections.
Maintain records including all correspondence, program plan, testing records, violation notices and other documents for inspection by DEP.
Ensure all devices are tested by a DEP Certified Backflow Prevention Device Tester and all surveys are conducted by a DEP Certified Cross Connection Control Surveyor.
Establishing a cross connection control program for residential customers including an educational component.
Not allowing any cross connections in the system unless properly permitted and approved.
Ensuring all double check valve assemblies and reduced pressure backflow preventers are tested according to schedule.
Notifying owner's of the connections when they are in violation of the regulations.
Owners of the connections are required to:
Notify the public water supplier of any connections protected by a double check valve assembly or reduced pressure backflow preventer.
Make suitable arrangements so the devices can be inspected and tested during normal business hours.
Maintain spare parts kits and any special tools needed to repair their devices.
Overhaul, repair or replace any device that fails a test or is otherwise defective within 14 days of the initial inspection.
Submit copies of inspection and maintenance forms to the water supplier.
Maintain on premises testing records, approvals and other documents pertaining to the device(s).
Make certain devices are tested according to DEP regulations or as required by the water supplier.
Prior to the creation of any cross connection or installation of a double check valve assembly or reduced pressure backflow preventer, the owner or their agent must file for a Cross Connection Permit. Click here to obtain the permit application form.
The permit will be reviewed to make sure the proper device is selected to protect the cross connection and that the proposed installation meets the requirements of 310 CMR 22.22. Applicants should take care to make sure all requirements are met otherwise the permit can not be issued.
Once the permit is approved and all other required permits have been obtained the applicant can proceed with installation of the device(s). Once installed the devices must be inspected and tested.
The Water Department is requesting four capital items for FY2015. The requests inlcude:
$100,000 for the Perkins Row Station Rehabiiltation Project design work
$250,000 for storage tank repairs and improvements
$1.1 million for water main replacement on Washington Street from Colrain Road to River Road
$800,000 for the Water Treatment Plant design work
More information is available in this presentation or by contacting the Water Department.
May 2014 Update: Town Meeting approved all of the requests.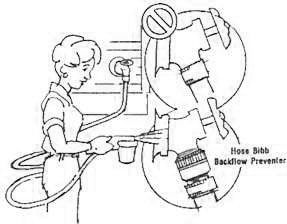 What is a cross connection? It's an actual or potential connection between a potable water line and any waste pipe, soil pipe, sewer, drain or other unapproved source. These connections pose a threat to public health by allowing contaminants to be siphoned or forced into the public drinking water system under certain hydraulic conditions.
In a residential setting, cross connections include submerged hoses, lawn irrigation systems, chemical spray applicators, connections to private wells, boilers, solar heating systems and fire sprinkler systems. These connections, if left unprotected, could introduce contaminants to the water system. Consumers play an important role in protecting public health by notifying the Water Department of any cross connections and helping to eliminate or properly protect the connection by installing a backflow prevention device.
We are investigating the feasibility of replacing the Perkins Row vacuum wellfield with a series of gravel-packed wells to improve the station's efficiency and reduce the risk of contamination. The current supply system uses a vacuum to extract water from the wells and any leaks in the manifold system can introduce contamination. Water from a gravel-packed well with a submersible pump is under pressure so if a leak develops water is forced out rather than contamination being drawn into the well.
The current phase of the project involves drilling several test wells, evaluating the soils and conducting some pump tests. Estimates of well yield and construction costs will be developed based on the results of these tests. Tests conducted during the summer of 2011 indicate that our current wells do not use the whole aquifer and there is an additional 15 feet of sand and gravel below our existing wells.
This project is on hold until the final design of the water treatment plant. Pump selection for the new wells depends on needed flow and pressure for plant operation which could be quite different than our current needs. Rather than replace new pumps that don't meet new requirements we will delay this project until the plant is designed.
January 2013 Update: Design and installation of the gravel pack wells is moving forward. Funding for the design, construction, testing and permitting the gravel pack wells will be requested at Town Meeting in May 2013. The well design is independent of whether a treatment plant is built or not.
May 2013 Update: Funding for the design, permitting, construction and testing of the replacement wells was approved at Town Meeting.
May 2014 Update: Design work for the gravel packed wells is underway and we expect they will be installed during 2014. Town Meeting appropriated $100,000 for the design phase of the station rehabilitation.
Subcategories
Water Commissioners

Article Count:

1

Billing

The Water Department bills for water usage and other fees based on rates set by the Board of Water Commissioners. A rate hearing is usually held in the spring and is advertised in local papers. Click here for a listing of our current rates and charges. The revenue generated funds the Department's activities and capital improvements. We operate on an enterprise accounting system that keeps our funds completely separate from other Town departments.

Article Count:

3

Cross Connection Control Program (Backflow)

Welcome to our cross connection section. These connections are a specific class of connections to the distribution system that pose or could pose a health risk. Some of the more common cross connections in Topsfield include:

Filling a swimming pool with a garden hose while the end of the hose is below the flood rim of the pool.
Certain types of fire suppression systems.
Chemical mixing tanks.
Certain types of heating, ventilation and cooling systems.

Cross connections are pathways that could introduce contamination to the water distribution system under certain hydraulic conditions. We are required by the Massachusetts Department of Environmental Protection to run a Cross Connection Control Program to make sure these connections are properly protected by a backflow prevention device or eliminated. Some devices require annual or semi-annual testing based on the degree of hazard and we are required to make sure tests are done according to MassDEP's schedule.

Article Count:

4

Projects

Article Count:

17

Capital Projects & Planning

Article Count:

13

Hydrant Flushing

Hydrants are flushed twice a year. The spring flushing program typically begins in April and the fall program begins in October. Each round takes approximately five weeks.

Article Count:

3

Water Resources Management

Article Count:

8

MassDEP Regulations

The Water Management Act gives the Massachusetts Department of Environmental Protection the authority to regulate ground water and surface water withdrawals in excess of 0.100 million gallons per day (MGD). The Water Management Act was enacted during the 1980's and there were quite a few water suppliers that fell under the new regulations. The regulations created what is refered to as a "registration" volume which is the amount of water historically withdrawn by the supplier at the time DEP's regulation took affect. Some suppliers have filed for water management permits to allow withdrawals in excess of the registration volume. The Town of Topsfield currently has a registration volume of 0.430 MGD and a permitted volume of 0.170 MGD.

Article Count:

2

Unaccounted For Water

Article Count:

3

Outdoor Water Use Restrictions

Article Count:

2

Water Quality

Article Count:

7

Water Rates

Article Count:

1

Water Department Rules & Regulations

Article Count:

3